Parallel Coordinates Plot in Pandas
How to make parallel coorindates plots with Pandas and Plotly.
New to Plotly?¶
Plotly's Python library is free and open source! Get started by downloading the client and reading the primer.
You can set up Plotly to work in online or offline mode, or in jupyter notebooks.
We also have a quick-reference cheatsheet (new!) to help you get started!
Version Check¶
Note: Parallel Coordinates Plots are available in version 2.0.6+
Run pip install plotly --upgrade to update your Plotly version.
In [2]:
import

 

plotly




plotly

.

__version__



In [3]:
import

 

plotly.plotly

 

as

 

py




import

 

plotly.graph_objs

 

as

 

go





import

 

pandas

 

as

 

pd

 



df

 

=

 

pd

.

read_csv

(

"https://raw.githubusercontent.com/bcdunbar/datasets/master/iris.csv"

)





data

 

=

 

[


    

go

.

Parcoords

(


        

line

 

=

 

dict

(

color

 

=

 

df

[

'species_id'

],


                   

colorscale

 

=

 

[[

0

,

'#D7C16B'

],[

0.5

,

'#23D8C3'

],[

1

,

'#F3F10F'

]]),


        

dimensions

 

=

 

list

([


            

dict

(

range

 

=

 

[

0

,

8

],


                

constraintrange

 

=

 

[

4

,

8

],


                

label

 

=

 

'Sepal Length'

,

 

values

 

=

 

df

[

'sepal_length'

]),


            

dict

(

range

 

=

 

[

0

,

8

],


                

label

 

=

 

'Sepal Width'

,

 

values

 

=

 

df

[

'sepal_width'

]),


            

dict

(

range

 

=

 

[

0

,

8

],


                

label

 

=

 

'Petal Length'

,

 

values

 

=

 

df

[

'petal_length'

]),


            

dict

(

range

 

=

 

[

0

,

8

],


                

label

 

=

 

'Petal Width'

,

 

values

 

=

 

df

[

'petal_width'

])


        

])


    

)




]





layout

 

=

 

go

.

Layout

(


    

plot_bgcolor

 

=

 

'#E5E5E5'

,


    

paper_bgcolor

 

=

 

'#E5E5E5'




)





fig

 

=

 

go

.

Figure

(

data

 

=

 

data

,

 

layout

 

=

 

layout

)




py

.

iplot

(

fig

,

 

filename

 

=

 

'parcoords-basic'

)



Parallel coordinates are richly interactive by default. Drag the lines along the axes to filter regions and drag the axis names across the plot to rearrange variables: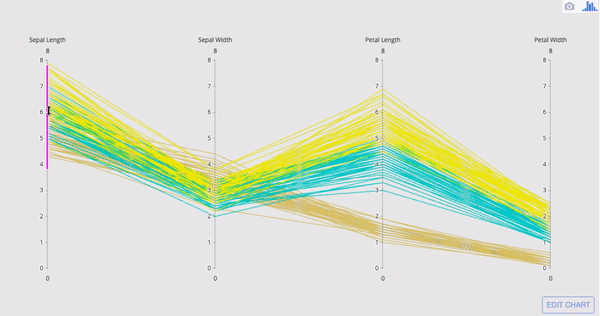 In [4]:
import

 

plotly.plotly

 

as

 

py




import

 

plotly.graph_objs

 

as

 

go





import

 

pandas

 

as

 

pd

 



df

 

=

 

pd

.

read_csv

(

"https://raw.githubusercontent.com/bcdunbar/datasets/master/parcoords_data.csv"

)





data

 

=

 

[


    

go

.

Parcoords

(


        

line

 

=

 

dict

(

color

 

=

 

df

[

'colorVal'

],


                   

colorscale

 

=

 

'Jet'

,


                   

showscale

 

=

 

True

,


                   

reversescale

 

=

 

True

,


                   

cmin

 

=

 

-

4000

,


                   

cmax

 

=

 

-

100

),


        

dimensions

 

=

 

list

([


            

dict

(

range

 

=

 

[

32000

,

227900

],


                 

constraintrange

 

=

 

[

100000

,

150000

],


                 

label

 

=

 

'Block Height'

,

 

values

 

=

 

df

[

'blockHeight'

]),


            

dict

(

range

 

=

 

[

0

,

700000

],


                 

label

 

=

 

'Block Width'

,

 

values

 

=

 

df

[

'blockWidth'

]),


            

dict

(

tickvals

 

=

 

[

0

,

0.5

,

1

,

2

,

3

],


                 

ticktext

 

=

 

[

'A'

,

'AB'

,

'B'

,

'Y'

,

'Z'

],


                 

label

 

=

 

'Cyclinder Material'

,

 

values

 

=

 

df

[

'cycMaterial'

]),


            

dict

(

range

 

=

 

[

-

1

,

4

],


                 

tickvals

 

=

 

[

0

,

1

,

2

,

3

],


                 

label

 

=

 

'Block Material'

,

 

values

 

=

 

df

[

'blockMaterial'

]),


            

dict

(

range

 

=

 

[

134

,

3154

],


                 

visible

 

=

 

True

,


                 

label

 

=

 

'Total Weight'

,

 

values

 

=

 

df

[

'totalWeight'

]),


            

dict

(

range

 

=

 

[

9

,

19984

],


                 

label

 

=

 

'Assembly Penalty Weight'

,

 

values

 

=

 

df

[

'assemblyPW'

]),


            

dict

(

range

 

=

 

[

49000

,

568000

],


                 

label

 

=

 

'Height st Width'

,

 

values

 

=

 

df

[

'HstW'

]),


            

dict

(

range

 

=

 

[

-

28000

,

196430

],


                 

label

 

=

 

'Min Height Width'

,

 

values

 

=

 

df

[

'minHW'

]),


            

dict

(

range

 

=

 

[

98453

,

501789

],


                 

label

 

=

 

'Min Width Diameter'

,

 

values

 

=

 

df

[

'minWD'

]),


            

dict

(

range

 

=

 

[

1417

,

107154

],


                 

label

 

=

 

'RF Block'

,

 

values

 

=

 

df

[

'rfBlock'

])


        

])


    

)




]





py

.

iplot

(

data

,

 

filename

 

=

 

'parcoords-advanced'

)